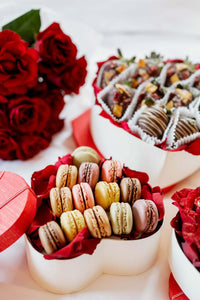 Our colorful 13 Stk. Mini-Macaron-XOXO Box is the sweetest gift you can surprise someone with. The heart box contains 13 macarons in different flavors and is decorated with rose petals. 
Here are the flavors:
Chocolate, vanilla, raspberry, pistachio, coffee and lemon.
The heart boxes are delivered to Düsseldorf and the surrounding area. However, they will also be sent throughout Germany on request. 

Size: berry box (10pcs. berries) 21,5 x 20x 9 cm
Macaronbox (13Stk. Mini Macarons) 18,5 x 17 x 7,5 cm
Blumenbox (5Stk. Rosen)  15,5 x 14 x 6 cm
Hellium Herzballon 18Zoll